Exceeding Expectations at The Laurels of Willow Creek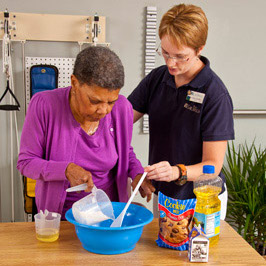 At The Laurels of Willow Creek, it is our mission to create a legacy by exceeding the needs and expectations of those we serve while embracing The Laurel Way. We understand that caring is more than providing excellent medical and guest services. It also includes being a companion and treating each guest with the utmost dignity, respect, and compassion.
"The Laurel Way of Caring" can be found in a warm smile, a kind word, or a comforting touch. We are passionate about our mission, and it is reflected in the letters we receive from guests and family members.
"One doesn't have to be a healthcare professional to know when a loved one receives compassionate care. But I must share with you that I have been a nurse for 30 years, worked in 2 long-term care facilities, worked as a hospice nurse for 6 years and currently work in nursing administration in a local acute care facility. I know the importance of providing excellent care for patients and families. The staff at the Laurels of Willow Creek truly did this.

I will forever be grateful."

Keri
"I get excited when I see these nurses and CNA's working"
"It is my observation and opinion that the staff at The Laurels are all sincerely committed to the well-being of each patient."

Ella
"Thank you for friendship and fellowship - May we all try to follow the example of one ones whose service we celebrate today"

Nancy
"Please be sure to let Ruth the CNA know that she made a difference with her exceptional care and understanding during my stay."

Rita
"Laura has been an inspiration in my mother's recovery. She has been patient, kind, and has taken the time to work with my family as we participate in activities that have a positive effect on mom's recovery. Thank you again!"

Kathy
"I would like to highly commend Mark for being such a nice person and a great help to me with my therapy. I have achieved a great deal of improvement. Also, all the therapists have treated me wonderfully."

Earl
"Liz is an excellent nurse! She is approachable, interested, and very responsible. She has "good common sense" and not easily stressed. Her nursing skills are commendable, she knows her patients!"

Charles
"Thank you so much for an honest presentation of what we could expect here- it has been awesome!"

Debra