Attending Physicians at The Laurels of Willow Creek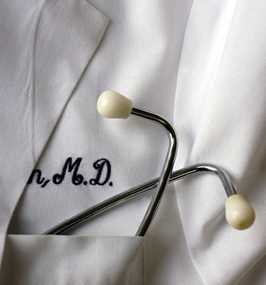 The Laurels of Willow Creek is very pleased that many attending physicians follow their patients at our facility.
The current list of attending physicians at =$locationname?> includes, but is not limited to, the following:
Danny W. Felty, MD, FAAFP, CMD, Medical Director
Dr. Felty grew up in Roanoke, Virginia and was a Distinguished Graduate of the Virginia Military Institute where he received a Bachelors of Science in Biology with a minor in Psychology. He received his Doctor of Medicine from the Medical College of Virginia campus of Virginia Commonwealth University. He furthered his education with a residency at Chesterfield Family Practice through the Virginia Commonwealth University. Dr. Felty's professional affiliations include membership in the American and Virginia Academies of Family Physicians, Richmond Christian Medical and Dental Society, Richmond Academy of Medicine in addition to the American Medical Directors Association. Due to his interest in long-term care and geriatrics, Dr. Felty pursued additional education and received his certification as a Medical Director in 2009 from the American Medical Directors Association. Dr. Felty is a founding partner at Chippenham Family Medicine, located on the Chippenham Campus of CJW Medical Center. Chippenham Family Medicine is a thriving family practice consisting of five physicians and two nurse practitioners that proudly serve the Richmond area. Dr. Felty is a happily, married father of two sons. He and his family maintain an interest in health and fitness and are active members of the Midlothian community. He serves his church in multiple leadership roles and volunteers his time with faith-based charities.
Manmohan Singh Khokhar, MD
Dr. Manmohan Khokar is certified through the American Board of Physical Medicine and the American Academy of Physical Medicine. He attended medical school at Punjab University and completed his internship at Dayanand Medical Center and Hospital in India. Dr. Khokhar is the President of Physical Medicine and Rehabilitation of Richmond, Inc. He was the Medical Director of Rehabilitation at Johnston-Willis Hospital from 1992-2002. He is a member of the American Academy of Physical Medicine and Rehabilitation, Medical Society of Virginia, Richmond Academy of Medicine, American Medical Association, and American Medical Directors Association. Dr. Kohokhar has privileges at Memorial Regional Medical Center, Henrico Doctors' Hospital - Forest, Parham and Retreat Campuses, CJW Medical Center - Chippenham and Johnston-Willis Campuses, John Randolph Medical Center, Sheltering Arms Rehabilitation Hospital, Bon Secours at St. Mary's, St. Francis and Richmond Community Hospital Campuses.
George Brengel, MD
Dr. George Brengel has twenty years of experience in Internal Medicine. He received his medical degree from SUNY Downstate Medical Center in New York and in 1992 became certified in geriatric medicine. He also serves as a member of the Medical Group Steering Committee and Infrastructure Subcommittee. Dr. Brengel is primarily focus is the elderly. He has earned an excellent reputation for his bed-side manner and superior care, which can be seen in his compassionate care and understanding.
Altory M. Miranda Jr., MD
Dr. Miranda received his medical degree from the University of Santo Tomas, Manila Philippines in 1996, finished his internship and residency training in Internal Medicine in the same institution and at the Brooklyn Hospital Center, NY. He has been Board certified in Internal Medicine since 2001. He has also been in skilled nursing, long-term care, and assisted living facility care since his move to Richmond, Virginia in 2010. Dr. Miranda is currently the President and Medical Director of Virginia Healthcare PC. He joined Adaptive Geriatrics last year with the goal of creating a new standard of care in long-term care in the practice of geriatrics.
Bernard Wittkamp, MD
Dr. Bernard Wittkamp has been in private practice since 1962, specializing in internal medicine and rheumatology. He is on staff at Johnston-Willis, Chippenham and St. Francis Hospitals. He received his Bachelors of Science from William and Mary, completed medical school at MCV.